Purchase a Kenya Kanga gift voucher for yourself, family and/or friends of any amount within the denomination of 1,000 and the recipient will be free to choose their own gift. KES 1,000 is the minimum gift voucher amount.
To determine the amount you want to spend on a gift voucher include a representative number in denominations of 10s or 100s in the No.of items section adjacent to the "Add To Cart" button
i.e 5 = a gift voucher of KES 5,000 or 30 = a gift voucher of KES 30,000.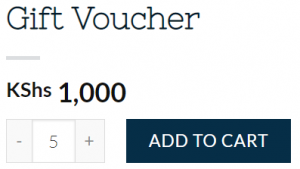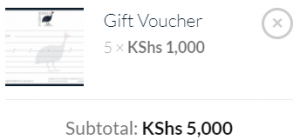 Enter the details of the person you are purchasing the gift voucher for at the Order Notes section when you Place Order and the details will be included in the gift card.
Gift vouchers can be delivered to you or to your intended simply by including your physical address or the physical address of your intended for delivery.
The gift voucher has an expiry time of 365 days and is redeemable at the Kenya Kanga Collection website and Langata Link Shops.